The Cobe Cup Race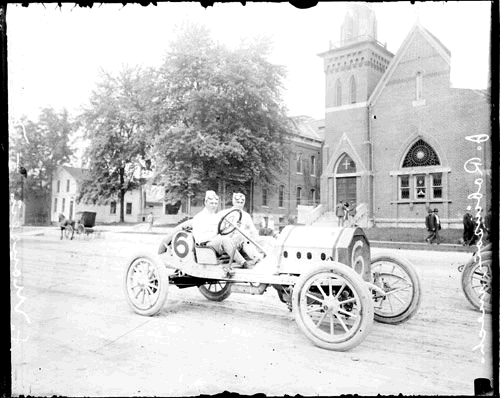 Believed to be Indiana's first major car race, The Cobe Cup continues to be an annual event for Crown Point, Indiana. Now a ceremonial event, the once grueling race was originally held south of the County Courthouse. First held on June 19, 1909, this 25 mile race was the forerunner of the Indianapolis 500. Awarded the winner's cup for the Cobe race was a Swiss-born man who later became quite famous: Louis Chevrolet.
The first (and only) 25 mile Cobe Cup was an enormous financial flop. Promoters anticipated an onslaught of race fans, all eager to buy tickets and flock to waiting stores to purchase souvenirs. What happened, however, was quite the opposite: the Cobe Cup had a grand total of one paying ticket holder. More frugal race fans opted for lawn chair seating along the race route, as opposed to the ticket-charging grandstand.
What was once a financial flop has become a sentimental success. The Cobe Cup Cruise, as it is also referred, is an annual summertime delight for those who showcase their vintage cars and for those who view the cars along that historic 25 mile route.
Corn Roast
Downtown Crown Point is frequently the entertainment focal point for summer days and evenings. One of the best loved of those times is the Corn Roast. Booths occupy the downtown sidewalks and the courthouse, touting treats such as elephant ears, shish kabobs, snow cones, and of course hot buttered corn-on-the-cob. Come enjoy this year's Corn Roast and all its live entertainment, food, and so much more.
| | |
| --- | --- |
| | Corn Roast |
Taste of Crown Point
What a good time the Taste of Crown Point is! When else can a person so easily sample some (or lots!) of Crown Point's best food, while at the same time enjoy a relaxing yet festive atmosphere at the town square? And to be honest, most who attend this annual summertime event don't just come for a mere sampling, they come to indulge in a good time and a bountiful variety of foods. Local restaurants set up booths on the courthouse lawn, ready to serve you their best culinary offerings.
Take a walk around the old downtown square to enjoy the sights, window shop at the antique mall, listen to live music, eat some great food from a variety of restaurants, and top it all off with some ice cream or some other Crown Point dessert.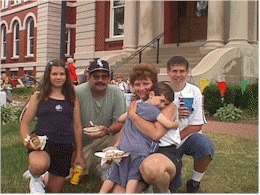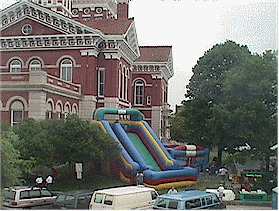 Brittany, Dick, Trish, Todd, and Brett Oram treat themselves at the Taste of Crown Point, while a huge inflatable slide awaits on the other side of the Courthouse lawn.


Easter Egg Hunt and Breakfast with the East Bunny
Easter time in Crown Point brings delight and fun for kids of all ages. This spring, kids can be a part of the exciting Easter Egg Hunt at the Old Lake County Courthouse lawn. After the egg hunt festivities, kids can meet the Easter Bunny and share in a family breakfast - a great opportunity for holiday memories.
Farmer's Market

Every weekend during the summer and early fall, Crown Point's Farmer's Market brings great plants, flowers, and produce to eager outdoor shoppers. Stroll sunny, peaceful streets while shopping amongst bushels of freshly picked vegetables and booths showcasing herbs and other goods. Great buys and a lovely morning await you at this weekly farmer's market.
Doll Parade
The Doll Parade is an actual procession where dolls and favorite toys are the stars. Kids can proudly stroll their playmates around the Old Lake County Courthouse while admiring onlookers cheer. This annual event continues as yet another opportunity for kids to just have a lot of fun.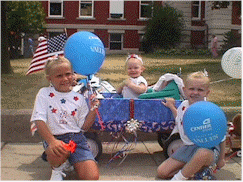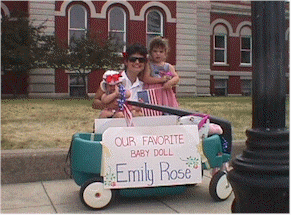 Doll Parade Participants Carli Beall, Jori Ana Meyers, and Carlie Govert (left)
Emily and Alyssa Harvey and Mom Brenda of Crown Point (right)
Santa Arrives Holiday Party & Parade
A parade of fire trucks welcome in the holiday season in Crown Point with Santa as the jolly parade marshal. Kids can count on am exciting and unique view of Santa as he is paraded through downtown Crown Point.

Santa's traditional route starts at The Pointe shopping center on North Main Street. Santa then waves to onlookers as he is paraded to the downtown square. He then stops at the downstairs level inside the old courthouse where children of all ages can visit with him and even have pictures taken with him. (Santa has been known to stay to talk to people until 5:00 pm. Now isn't he a nice guy!)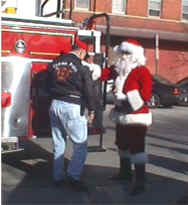 Santa's Breakfast
Kids, come visit Santa! Not only can you meet with him, you and your family can even have breakfast with this jolly fellow. Be sure to have in mind what you want for Christmas, so you can tell Santa personally. He'll be looking forward to seeing you and hearing how good you've been this year. The breakfast is at the Crown Point High School cafeteria. Be sure to join in this holiday fun.