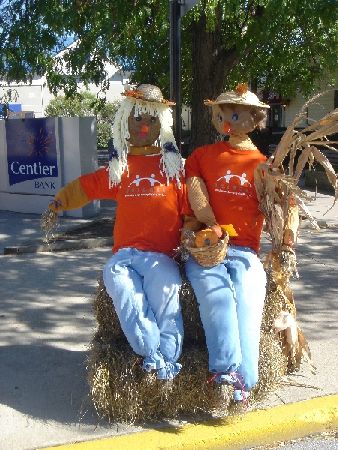 See all of the scarecrows in our photo gallery:
http://www.crownpoint.net/cpphoto/index.php?cat=10030
Not-so-scary scarecrows
CROWN POINT | Although scarecrows are generally intended to scare off visitors, the Stewards of the Square are hoping their newest project will do just the opposite. On Friday, about 20 scarecrows were secured to lampposts around the square in attempts to draw more foot traffic to area stores.
The scarecrows, which were decorated by local business owners, all sported different themes and costumes, including one in an ice-cream cone outfit and another dressed as a hula dancer.
Jan Vallone, owner of PJ's and the city's special events coordinator, said the scarecrows are all unique.
"Each one is cuter than the one before," Vallone said. "It's taking off. I'm excited."
This weekend, visitors and shoppers can vote on their favorite scarecrow costumes, which are designated with numbers for casting votes. Business owners paid an entry fee of $10 to participate, and creators of the three favorite scarecrows will receive cash prizes. Voters can cast their ballots at participating stores around the square.
Vallone said she foresees the project growing into a large-scale scarecrow festival in the coming years.
"The main reason is so people come down and see how cute our town is," she said.
Brenda Matz, owner of Settings Antiques and Interiors, said she kept her scarecrow traditional. All the scarecrows have a certain character, she said.
"It adds a lot of hominess to the square," Matz said.
While Matz went for a more conventional look, Lori Donelson, owner of Keepsakes, decorated her scarecrow to be representative of her store.
Donelson said she was impressed by the way storeowners came together to work on the scarecrow project.
"We were all pulling together, we were all having fun," Donelson said. "The camaraderie -- it was great to feel that."
Janice Groshans, owner of T-N-T Wireless, decorated her scarecrow complete with cell phone and sweater emblazoned with the store's logo.
"He's got a little pumpkin head," Groshans said. "We put a light in his head. I didn't know how long it would last."
Vallone and Groshans, who recalled instances of vandalism to some of the fiberglass bulldogs that lined the square's streets over the summer as part of a public art display, were happy that no one had vandalized the scarecrows. One of the bulldogs still on the square, though not officially part of the contest, was decorated in scarecrow garb as well. The winning scarecrows will be announced Tuesday.
nwitimes 10/9/05